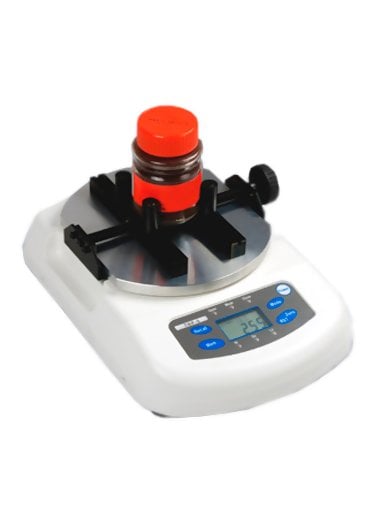 ---
Memory for 1000 values with USB Output
---
3 Ranges up to 90 Lb-in
---
Selectable units of measure: lbf-in, kgf-cm, N-m and N-cm
---
Includes Hi/Go/Lo Limits and LED Indicators
---
3 Ranges up to 88 In-lb
Sample Diameters up to 7.5" (190 mm)
The Shimpo CAP-TNP torque meter is a precision instrument that measures OPEN and CLOSE torque values for various applications. As a cap torque analyzer, the CAP-TNP repeatedly determines bottle closure and breakaway torque. It has a wide memory capacity capable of storing 1,000 data points in addition to Average, Maximum and Minimum values. A HI-LO comparator feature can be utilized for a large batch testing to ensure overall product quality.
The Shimpo CAP-TNP torque meter is USB capable for computer testing. Combined with the free Digitorq Software, additional analysis and testing can be performed.
The Cap-TNP is a portable device powered with internal rechargeable batteries or through an AC Adpater/charger. Designed with a small footprint it can easily be transferred to maximize use around the shop floor or the laboratory.
Shimpo TNP Cap Torque Tester - Meter
1" gripping pegs
AC adapter
Calibration certificate
USB Cable
CD-Software
Instruction manual
Precise 0.5% F.S. accuracy ensures exact results
Variety of applications met with ranges from 4.4 inlb (50 Ncm) all the way to 88.5 inlb (10 Nm)
Quick & Easy set up with removable chuck pins that adjust test diameter size
Memory function allows convenient storage of up to 1000 readings for later retrieval
One touch operation enables quick reset for subsequent tests
Large, easy to read LCD displays torque values in four selectable engineering units
PC connectivity with USB interface and free DIGITORQ software enables data analysis and graphing on Microsoft Excel
Truly portable with compact, light-weight design and internal, rechargeable batteries
Recharge batteries with included 120/240V AC adapter/charger or utilize adapter for continuous use
Selectable measuring modes enables capture of Average, Peak Opening or Peak Closing values in either clock-wise (CW) or counter clock-wise (CCW) directions
Speed up large batch tests with the integral Red/Green LED comparator that responds in accordance to pre-programmed tolerances
Durable, cast-aluminum heavy-duty construction withstands demanding wear and tear
Models
TNP-0.5
TNP-2
TNP-5
TNP-10
Measuring Range
0-50.00 Ncm
0-500.0 mNm
0-5099 gcm
0-4.425 lbin
0-2.000 Nm
0-200.0 Ncm
0-20.39 kgcm
0-17.70 lbin
0-5.00 Nm
0-500.0 Ncm
0-50.99 kgcm
0-44.25 lbin
0-10.00 Nm
0-1000 Ncm
0-102.0 kgcm
0-88.5 lbin
Test Sample Diameter Range
0.39 7.48 (10 190 mm)
Accuracy
0.5% / F.S.
Display
Main display: 4-digit LCD display, Character height 0.5 (12 mm)
Comparator Display
HI GO LO (green and red LED indicator)
Display Update Time
Select from 0.125 second (8 times/second), 0.25 second (4 times/second), 0.5 second (2 times/second), 1 second (1 time/second). Peak display: 0.125 second
Measuring Mode
Opening Mode: Show max value when opening (peak display) Displays max counterclockwise torque
Closing Mode: Show max value when closing (peak display) Displays max clockwise torque
Average Mode: Real time display (average value display) Displays torque in real time
Overload
150% of full scale
Sampling Rate
1000 Hz
Memory
1000 data (max)
Data Output
USB1.1
Power
Built in nickel hydride battery (NiMH) or Auto-ranging AC adapter (AC100 240V)
Battery Information
NiMH: 8 hours use after full charge. 16 hour max. recharge time.
Operating Environment
32 104F (0 40C)
Software (PC)
DIGITORQUE TNP (Free)
Dimensions
12.60 x 8.94 x 4.96 (320 x 227x 126 mm)
Product Weight
Approx. 17.6 lb (8 kg)
Approx. 17.6 lb (8 kg)
Approx. 17.6 lb (8 kg)
27.5 lb
(12.5 kg)
Package Weight
Approx. 19 lb (8.6 kg)
Approx. 19 lb (8.6 kg)
Approx. 19 lb (8.6 kg)
30.7 lb
(13.9 kg)
Certifications
CE
Warranty
2-Year
Model
CAP-TNP-0.5
CAP-TNP-2
CAP-TNP-5
CAP-TNP-10
Capacity
0-4.425 Lbf-in
0-0.500 Nm
0-50.00 Ncm
0-5099 gcm
0-17.70 Lbf-in
0-2.000 Nm
0-200.0 Ncm
0-20.39 Kgcm
0-44.25 Lbf-in
0-5.000 Nm
0-500.0 Ncm
0-50.99 Kgcm
0-88.5 Lbf-in
0-10.00 Nm
0-1000 Ncm
0-102.0 Kgcm
Resolution
0.001 Lbf-in
0.001 Nm
0.01 Ncm
1 gcm
0.01 Lbf-in
0.001 Nm
0.1 Ncm
0.01 Kgcm
0.01 Lbf-in
0.001 Nm
0.1 Ncm
0.01 Kgcm
0.1 Lbf-in
0.01 Nm
1 Ncm
0.1 Kgcm