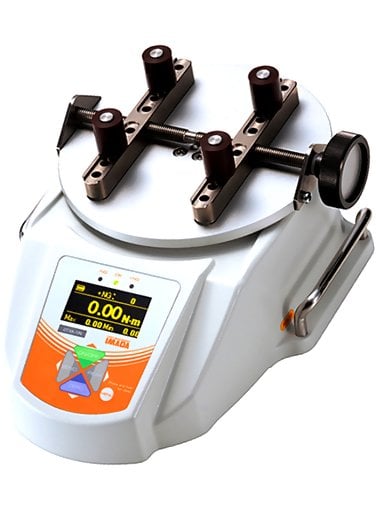 ---
3 Ranges up to 85 lb-in
---
Selectable real time and peak modes
---
The Imada CAP-DTXS Cap Torque Testers is an easy-to-use, high-precision cap torque tester that features a large electroluminescent display that clearly indicates the real-time and peak torque. Color-coded LED indicators alert the user to Go/NoGo conditions. Orange lights indicate a value less than low setpoint, green lights between high and low, and red for over the high.
The Imada CAP-DTXS Cap Torque Testers is supplied with ZTLogger data acquisition software. It can download data from the tester memory or captures continuous data at 10 points/second. Zero the tester or capture data while at the computer. All tester programming can be set and saved from the software.
Optional Force Recorder data acquisition software is designed to process up to 2,000 data per second.
All Imada CAP-DTXS Cap Torque Testers include a 3 Point Calibration Certificate traceable to NIST. The imdada DTXS cap torque testers include AC adapter/charger and built-in Ni-MH rechargeable batteries, 1 high standard pegs (optional long pegs and calibration kit available).
Test cap loosening (CCW) and tightening (CW) torque
Selectable real time and peak modes
USB, RS-232, Digimatic and Analog outputs
Selectable units of lbf-in, kgf-cm, N-m, ozf-in, N-cm
1000 data point memory capacity
Programmable high/low setpoints with color-coded LED indicators and audible signal
Overload and low battery indicators
200% overload capacity
DTXS accommodates samples from 20 up to 160 mm (0.787" - 6.30")
Four rubber-coated 1 inch pegs are included with DTXS
Optional "Small Table" accommodates samples from 7 up to 50 mm (0.275" - 2")
Optional Peg sizes/material available
Include 3 Point Calibration Certificate traceable to NIST. ISO 17025 Calibration Certification optionally available
2 Year Warranty
| | |
| --- | --- |
| Accuracy | 0.5%F.S.1digit |
| Unit of measurement | lbf-in, kgf-cm, N-m, ozf-in, N-cm |
| Display | 4-digit |
| Display update | 10 times/ sec |
| Auto Zero Reset | 1.0 to 60 seconds (selectable) |
| Sampling rate | 2,000 samples/second (max) thru the USB port |
| Safe overload rating | Approx. 200% |
| Operating Environment | Temperature: 0-40 C Humidity: 20 -80%RH |
| Output | Outputs USB, RS-232C, Digimatic and 2 VDC analog output (D/A),Comparator 3 steps (-NG/OK/+NG), Overload alarm |
| Overload warning | Approx.110%F.S. (Warning message and alarm ) |
| Sensitivity | Max, High, Medium, Low (selectable) |
| External connecting switch | SEND (a point of contact holding), Zero reset, Peak, ON/OFF setting |
| Auto Power Off | 5, 10, minutes or OFF (selectable) |
| Power | Built-In Rechargeable Ni-MH battery pack or via AC-Adapter (100-240V AC) |
| Battery Life | approx. 8 hours (recharge time approx. 10 hours) |
| Battery Indicator | Indicates three charge states high, medium and low |
| Plug Type | USA Blade Type (Select Euro Plug Adapter for use in 230V Countries) |
| Weight | Approx. 10 Lbs/4.5kg (Including Standard table and Standard pins) |
| Warranty | 2-Years |

Torque Ranges

| | | | |
| --- | --- | --- | --- |
| Model | CAP-DTXS-15 | CAP-DTXS-40 | CAP-DTXS-85 |
| lbf-in | 15.00 (0.01 lbf-in) | 40.00 (0.01 lbf-in) | 85.0 (0.1 lbf-in) |
| kgf-cm | 20.00 (0.01 kgf-cm) | 50.00 (0.01 kgf-cm) | 100.0 (0.1 kgf-cm) |
| N-cm | 200.0 (0.1 N-cm) | 500.0 (0.1 N-cm) | 1000 (1 N-cm) |
| Nm | 2.000 (0.001 Nm) | 5.000 (0.001 Nm) | 10.000 (0.01 Nm) |
| ozf-in | 240.0 (0.1 ozf-in) | 640.0 (0.1 ozf-in) | 1360 (1 ozf-in) |

Optional Small Table

Clamps diameters from 7mm ~ 50mm
| | | |
| --- | --- | --- |
| Small table with standard pegs | Small table with steel pegs | Small table with long pegs |
| | | |
| | |
| --- | --- |
| Selectable units of measure: lbf-in, kgf-cm, N-m and N-cm | |